Eram's Story at Jamghat
To begin, it must be said that Eram is a name you might come across in the future. Eram's father abandoned the entire family when she was a child including her mother who is mentally ill. Before coming to Jamghat, Eram lived with her grandmother (maternal) near Seelampur and while she was there, she was made to do all the household chores. Her mother had no proper home and could be found anywhere near Jama Maszid. Eram's two brothers and one elder sister, Uzma had also stayed at Jamghat homes at different points in time. Uzma is now her guardian and her brothers are also learning to take bigger responsible.
Eram joined Aanchal home in 2010, she did not know basic alphabets or numbers. The facilitators and educators provided her with home tuitions and remedial classes to enable her to get admission into a school. She then went on to get admitted in Life Care Academy School in LKG and got promoted within a year. Since then, she never looked back and continued to get promoted to the next class because of her hard work. Due to the progress she made in her studies, Eram got admission in Ryan International School, South Delhi in the 9th grade. But it was not easy for her to compete with the students of Ryan International School. Her classmates were more confident, more fluent in the English language and most of them came from well off families. The environment was completely different for her and was really challenging. But despite all these difficulties, she did not give up and continued working hard. Eram's perseverance and self-belief made her one of the best students in her class. Eram scored 73% marks in the 10th std and got 4th position in the 11th std. She has gone on to score 70% marks in the 12th std and later continued higher studies and joined college. Her achievements are a reflection of her focus and commitment to grow and move forward in life despite all hurdles.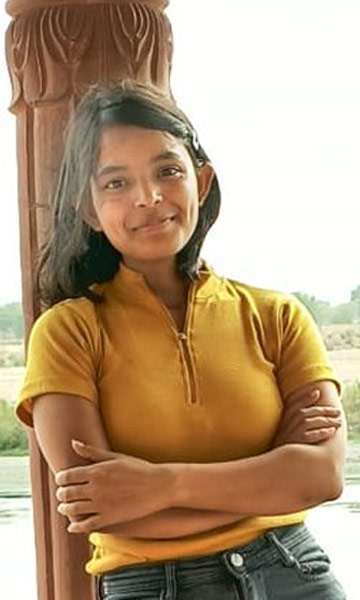 Eram is happy, joyful, understanding and one of the most cooperative children of Aanchal home. She is one of the favourite kids among the teachers and Jamghat staff and that's only because of her genuine and lovely nature. She is a very bright child, however, like any other kid she also has issues, she tends to be a little bit too serious and gets angry, especially when it comes to matters related to her studies. Academically, she is the best performing child, but the best part of all is her inquisitive nature. She wanted to be a police officer when she joined Aanchal but as she grew she identified her true interest and now willing to be a company secretary and her ultimate life goal is to become a powerful businesswoman.
There is nothing Eram can't do, be it extracurricular activities or studies or painting. She has been very active in theatre activities of Jamghat from time to time and has performed in theatres with well-known actors and hundreds of audiences at several places. The other thing she genuinely enjoys is dancing and she took professional coaching for it as well, during her stay in Jamghat. She is very good at drawing and paintings as well. Talking of sports, Volleyball is her favourite sport, Eram also enjoys playing badminton. She also took shooting classes for some time and is NCC 'A' certificate holder. Her appearance is also confident and attractive.
Eram has now cleared her 12th with 70% marks (CBSE) and after reaching 18 years she passed out from Aanchal Home and for her overall development and as aftercare support, she was transferred to Aftercare home of SPID so that she could continue her education as at that time there was no one in her family who could support her. Jamghat was continuously in her contact and guided her to register in Delhi University, Jamia university and IPU for her graduations. She was able to get admission in KCC College- IP University, and has successfully cleared her 2nd year of B. Com. (Hons.). Now that her elder sister and brother, who also stayed in Jamghat's Aanchal and Aman home are earning well, they have rented a place and finally Eram has reunited with her siblings. Her youngest brother who also lived in Aman home passed out from Aman home a few months back and now all four siblings are living as a family together.
With the attitude and aptitude she possesses and her inquisitive nature we are assured of her bright future.